Preparing for a Natural Childbirth Experience
Welcome to Los Angeles LAMAZE Childbirth Classes *
Acupressure and Breathing for Childbirth DVD

Pregnant? Get help for your upcoming delivery! Use ancient Acupressure points proved effective over thousands of years to facilitate a natural birth. Covers breathing patterns, signs of approaching labor, when to go to the hospital and more! Check out our website at www.birthclasses.net Laurie Gal Binder Acupuncturist

Posted by Santa Monica Acupuncture and Wellness on Wednesday, February 1, 2012
by Laurie Binder, LCCE, RNCNP, MS, LAc, Doctor of Acupuncture
Offering private Lamaze classes in the West - Los Angeles area.
Childbirth preparation familiarizes the woman and her labor partner with the process of pregnancy, labor, delivery, and postpartum.
The information provided includes: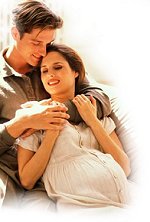 Anatomy and Physiology of pregnancy

The complete labor and birth experience

The role of the birth coach

Cesarean birth

Postpartum care

Breastfeeding
The Lamaze tools that you will learn includes:
At the end of this comprehensive course, you will be fully prepared to actively participate in the birth of your child.
Qualifications:
Ob/Gyn Nurse Practitioner

Labor and Delivery RN

Doctor of Acupuncture, MS in Traditional Oriental Medicine

UCLA Certified health consultant in complementary therapies and acupressure

Mother

Accredited LCCE, and have been teaching Lamaze classes for more than 10 years.

Lamaze coach to some of Hollywood's most famous couples including: Jack Nicholson & Rebecca Broussard, Warren Beatty & Annette Bening, Catherine Hicks & Kevin Yagher, Mr. & Mrs. Franco Columbu, Artist Billie Al Bengston, Fitness Guru Kathy Smith
Dr. Laurie Binder has been seen on: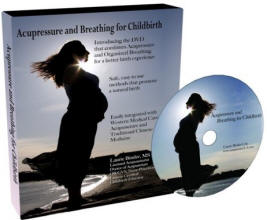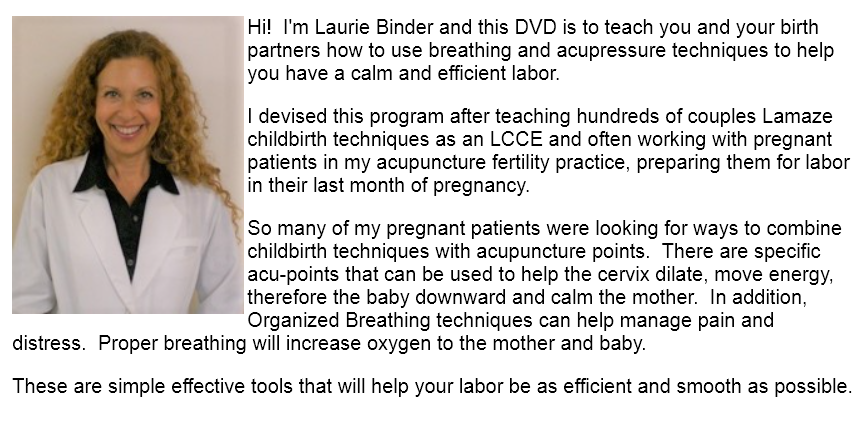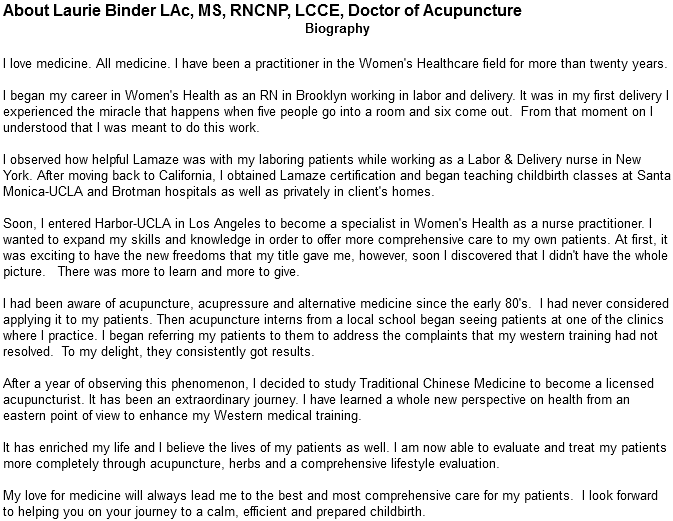 What is Organized Breathing?
Organized breathing patterns used in childbirth are effective in reducing stress and the perception of pain. When using the concentration required to focus on the breathing during a contraction the attention is directed away from a pain response to a relaxed breathing response. Through daily practice, one can develop a very dependable labor tool.
Laurie Binder
Doctor of Acupuncture
Ob / Gyn Nurse Practitioner
Lamaze Childbirth Instructor
Laurie's Celebrity Clients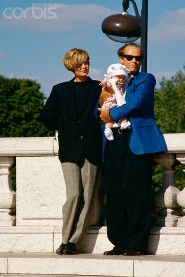 Jack Nicholson & Rebecca Broussard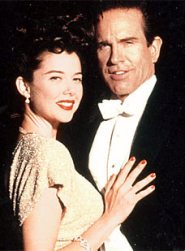 Warren Beatty & Annette Bening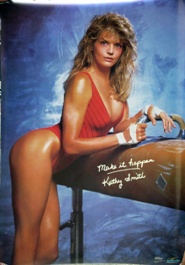 Fitness Guru Kathy Smith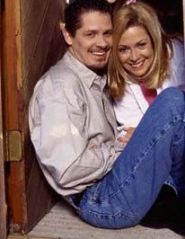 Catherine Hicks & Kevin Yagher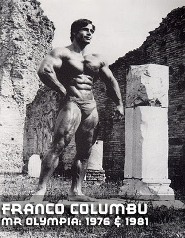 Mr. & Mrs. Franco Columbu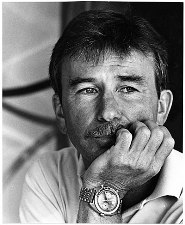 Artist Billy Al Bengston